Stain a Deck Cost & Tips | Complete DIY Guide
Have you decided to stain your deck, but need help? In this complete DIY guide, we step you through the entire deck staining process from stain a deck cost calculation, equipment list, choosing the right stain, preparation and application techniques.
A well-kept deck not only adds value to your property but also gives additional room for relaxing and entertaining. However, like with any outside living space, the reality of Mother Nature makes maintaining this area more difficult.
Responsible deck ownership entails taking extra precautions to protect your deck from the elements, such as wind, rain, sun, and snow, as well as the passage of time. If you ignore it for too long, not only will the space's appearance and utility deteriorate, but its materials will deteriorate as well, leaving a dangerous surface full of projecting nails and splintered wood.
The good news is that staining a deck to preserve its beauty and extend its life is a straightforward DIY project that anyone can carry out with a little guidance.
In this article we explain how to stain a deck from start to finish, including stain a deck cost, how to restore a deck stain, prep and tips for staining a deck, plus anything else you need to know to get the job done.
What is the Cost for Deck Staining?
In many ways, staining your deck is a rather simple and uncomplicated home maintenance operation. However, the price is determined by a few criteria that are usually simple to compute.
The estimated cost for deck staining varies depending on the materials used and the condition of the deck. However, you should anticipate to pay between $100 to $1,100 for the full deck stain procedure.
In reality, the cost of staining a deck is largely determined by the kind of deck stain you use, the size of your deck, and the amount of prep work required. Other factors also come into play, such as the type of stain and deck stripping process (typically sanding or pressure washing). For example: If you have a 10-foot by 10-foot deck that merely has to be stained, the cost might be as low as $2 per square foot, resulting in a $200 investment. On the other hand, if you have a 12-foot by 12-foot deck that needs to be stripped with a power sander and pressure washed because it's covered in old, peeling paint, your cost per square foot may be $4. As you can see, the stain a deck cost can be highly variable depending on your personal situation.
Ok ok… but how much will it cost to stain YOUR deck?
To calculate your own deck stain cost and coverage, remember this rule of thumb…
Rule of Thumb: 1 gallon of deck stain = 200-300 square feet
Next, you'll need to measure your deck to work out the area in square feet.
The method for measuring your deck area is basically the same as the steps we covered in our article on calculating DIY paint cost and coverage here. That article will also explain how to work out the cost per square foot for the stain.
Figuring the cost of stain for your deck from there is straightforward: simply multiply the square footage of your deck by the cost per square foot.
For detailed instructions on calculating the quantity and cost of deck stain required, head over to the DIY paint cost and coverage article. As mentioned above, the process for calculating deck stain cost and coverage will be the same as calculating paint, just use the rule of thumb for deck stain instead.
In the next section, we'll break down the individual costs of equipment and materials so you can calculate how much you can expect to pay for your entire deck stain project.
Stain a Deck Cost Calculation (DIY)
Stain a Deck Cost – Equipment and Materials
Below is a list of required equipment and tools to stain your deck, whether you are planning to stain a new deck or restore a deck stain on an old one. Obviously, if you already have any equipment at home, you don't have to buy them again – just budget for the tools you need to purchase.
| | |
| --- | --- |
| EQUIPMENT, TOOLS, MATERIALS | COST |
| Stiff-bristle broom | $20 |
| Pump sprayer | $10-20 |
| Protective gloves | $10 |
| Safety mask | $10 |
| Garden hose with high-pressure nozzle | $40 + $15 |
| 80-grit sandpaper or sponge | $10 |
| Plastic sheet or drop cloth | $10-25 |
| 2-2.5inch paint brush | $10 |
| Paint roller and tray | $10 |
| Deck cleaner | $10 per container |
| Deck stain and/or sealant of choice | $25-30 per gallon |
Cost of Deck Stain and Sealer
When it comes to staining your deck, it's easy to put all of the products that go into creating a watertight barrier and even color into one big pot.
However, this is not only incorrect, but it also minimizes the wide range of products available for customizing your deck. It also ignores the various advantages and consequences that staining can produce.
In general, there are four primary kinds of stain and sealant from which to pick, each with its own set of features and pricing ranges. We'll go into each one in more detail below the table.
Deck Stain Options in Detail
Transparent Stain
Transparent stains look best on newer wood that hasn't been damaged. A translucent stain allows the grain of your wood to shine through, giving your deck a natural, rustic look. It's ideal for new decks or older ones in need of a restore, as long as it hasn't been exposed to much moisture.
Examples of products include: WoodRx Ultra Natural, BEHR Wood Finish, and Thompson's Waterseal are some examples of transparent stain products suitable for decks. The average price per gallon is $25-$30.
Semi-Transparent Stain
Semi-transparent stain is comparable to transparent stain, but it also displays wood grain for a more natural look. Semi-transparent stain, on the other hand, has pigmentation, which allows you to match the tone of your deck stain to the color palette of your home or to conceal minor imperfections and signs of age.
Examples of products include: Ready Seal and Thompson's Water Seal are two examples of products (any tinted shade). The average price per gallon is $35-$40.
Solid-Color Sealer
When working with older, distressed wood, solid-color sealant is a wonderful choice since it totally hides the wood grain while maintaining a lively, natural appearance. Solid-color sealer, which comes in a variety of hues other than wood tones, is a terrific option to add additional character to your deck by putting a contrasting or matching color surrounding your home. Because of its sealant characteristics, this choice will resist water exactly like traditional stains.
Examples of products include: Sikkens ProLuxe, BEHR Premium Solid Color, Sure Step Concrete Coating. $30-$40 per gallon is the average price.
Restoration Paint
If you're working with old wood that's on the verge of needing to be replaced, restoration paint is a good choice. Restoration paint is thicker than stain and sealant, providing not just weatherproof sealing but also strength and covering for pitted and splintered wood.
Restoration paint can be an excellent alternative to totally rebuilding an old deck in borderline circumstances, adding years to an aging structure. Restoration paint, like solid-color sealer, will not expose the grain of your wood but will create a solid, brilliant color on the surface that is easy to match to your home's colors.
Examples of products include: Rust-Oleum Restore, BEHR Premium Deck Over. $30-$40 per gallon is the average price.
Preparation for Deck Staining
A sealed and stained deck's main purpose is to keep the wood fresh and healthy by keeping moisture out and reducing sun damage. Most commercial deck stains and sealants will achieve this in only a few coats if the deck or porch is properly prepped and the stain is applied correctly. Part of 'applying it correctly' means making sure that proper prep for staining your deck is carried out before you start.
As your very first steps in your deck staining prep, you should:
Set a date for doing your deck staining. This is so you can clear your schedule, have all equipment and materials ready, take the kids somewhere else for the day, etc.
Check the weather 1-2 days before you plan on staining your deck. As you'll see, deck staining is a bit weather-dependent. You also need to be flexible to postpone, in case the weather is not good.
After you have worked out your stain a deck cost and procured your materials and stain, don't get impatient and jump into applying the stain without preparing the area properly. This is a common mistake, and one that will cost you in the long run. Make sure you allow time to tidy, clean, wash and dry the deck properly before you start applying stain, even if this means having to start a day earlier.
As part of your prep for staining a deck, you might like to print off this checklist and keep it handy. We'll go over each step in detail below.
Deck Staining Checklist
Step 1: Remove furniture and inspect deck
Step 2: Protect vegetation in nearby areas
Step 3: Clean and wash the deck
Step 4: Allow deck to dry fully
Step 5: Prepare the sealer and/or stain
Step 6: Apply stain to the decking boards with a roller
Step 7: Apply stain in tricky areas with a brush
Step 8: Allow to dry, then apply another coat
Step 9: Allow deck stain to dry fully
Step 10: Clean up
Stain Your Deck: Step-by-Step
Although the procedure of staining a deck is rather straightforward, it is divided into two distinct but equally significant tasks: cleaning and preparation and the actual staining process. To get the best and longest-lasting results, make sure to do each of these chores correctly and allow enough time in between for the seal and stain to cure.
PART 1 | Prep for Staining a Deck
Step 1: Remove furniture and inspect deck
Remove all furniture and other objects off the deck surface and inspect it for damage and protruding nails before beginning the cleaning process. With 80-grit sandpaper and an optional pole sander, sand down any broken boards. To avoid snags, remove and replace any cracked or rotting boards, and nail in any projecting nail heads.
Step 2: Protect vegetation in nearby areas
Make sure to moisten and/or cover all live vegetation around the area before applying the deck cleaning. Follow the deck cleaner manufacturer's instructions on how to safeguard your plants on the bucket or bottle of cleaning product.
Step 3: Clean and wash the deck
Sweep the area to remove any debris. Then, using the garden sprayer, apply the cleaner to a damp or dry surface (depending on the product). With the bristles of your broom, work the cleaner into the boards and let it sit for the specified period (typically approximately 10 minutes) before rinsing the cleaning solution away with a garden hose fitted with a high-pressure nozzle.
Before staining the deck, remember to scrub off any algae. Use a solution of water and cleaner, with a stiff bristled brush like the one pictured. Ensure the bristles are stiff; soft bristles won't do anything. I find sugar soap to be a good all-purpose floor cleaner, for both indoors and outdoors.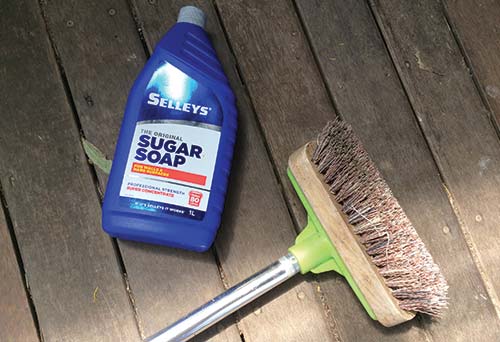 Step 4: Allow deck to dry fully
Allow at least 48 hours, or the amount of time stated in the manufacturer's guidelines, for the deck to dry before beginning the staining process. Because of this necessity, it's a good idea to check the weather forecast before starting a deck staining project to ensure you'll have enough dry time in between the cleaning and staining phases, as well as soon thereafter.
PART 2 | Applying the Deck Stain
Step 5: Prepare the sealer and/or stain
For tips on selecting the right stain for your decking needs, see the section above on deck stain cost or refer to our article Staining Deck vs Painting Deck vs Decking Oil here.
Prepare the sealer and/or stain according to the manufacturer's instructions, making sure to fully mix the entire batch to guarantee a consistent color across your deck's surface. The steps below can be used to apply both types of finishes.
Step 6: Apply stain to the decking boards with a roller
Begin by selecting a small portion of 2-3 boards and using a roller with an extension pole, gently apply one thin coat over the section.
Pay great attention to the stain, avoiding any pools or puddles of stain or sealer with a 2-inch paint brush and clearing them up. Back-rolling is the procedure of having a second person follow you about and smooth out those small puddles with a paintbrush just after you apply the roller coat.
Continue this method, focusing on a single pair of boards at a time, across the entire deck.
Step 7: Apply stain in tricky areas with a brush
Go around the deck and apply the stain or sealer in corners and on railings and poles with a paintbrush rather than a large roller.
Step 8: Allow to dry, then apply another coat
Allow time for the stain or sealer to dry completely before applying a second thin coat. You may just need to reapply a second layer in select spots, or none at all, depending on the condition of the deck and the previous state of the sealant.
Step 9: Allow deck stain to dry fully
Allow the deck to dry completely according to the instructions on the packaging of the stain or sealant you're using. Ensure it is dry before removing drop cloths and rinsing the surrounding area.
Step 10: Clean up
Rinse off the surrounding vegetation and remove the plastic protection sheet if you used one, after the deck stain has dried. Lastly, pack-up any remaining stain and tools, and voila! Your newly stained deck is now ready to enjoy.
How to Restore a Deck Stain
If you are working on an old deck on which you need to restore a deck stain, the follow these steps. The steps are mostly the same as above, but with more attention given to the deck preparation and cleaning, including minor decking fixes.
Begin by looking over the entire deck. Pay close attention to any element of the deck that comes into direct touch with the ground, such as the posts, stair stringers, or ground-level joists. If there are any areas that need to be fixed, then do so. These fixes will vary depending on your individual deck but could include sanding rough spots, removing splinters, filling holes, hammering in protruding nails, replacing deck boards, maybe even removing a wasp nest! Look for any signs of rot or insect damage that might need to be dealt with.
Surface cleaning. Rinse down the deck with water. After rinsing, go over the deck with a stiff-bristle brush to massage the deck cleaner product into the wood fibers. Follow the manufacturer's instructions as necessary. In order for the cleaning solution to work properly, the boards must be wet. Allow the deck to completely dry before staining it.
Use the Stain. It's time to apply a protective finish to the deck once all of the repairs have been completed and the deck has been well cleaned. Clear finishes and transparent stains are good for fresh wood, but a semitransparent stain is better for older decks.
Refurbishing a Railing. While you're at it, take a look at the existing railing on your deck or porch. Chances are, if your deck was in bad shape, then your railing probably is too. Follow the steps as above to prepare, clean and stain it. Restoring the stain on your railings at the same time as the decking will also ensure a consistent look across the entire area.
TIP for staining or restoring deck if it's very old: Instead of staining, a deck resurface should be used if the deck is really old and the wood is broken or breaking apart.
Extra Tips for Staining Deck
How much does it cost to stain deck DIY vs professional?
The typical cost of staining a deck range from $0.65 per square foot for do-it-yourselfers to $4.15 per square foot for professionals. The expense of refinishing a deck is about the same.
Most contractors stain a deck cost includes cleaning the deck, as well as small repairs like fixing loose boards and filling wood gouges. What type of cleaning is done and whether you employ a specialist or perform the work yourself are two more cost concerns for deck staining?
Average DIY Cost for Deck Staining: $0.65 – $1.40 per square foot
Average Contractor Cost for Deck Staining: $2.75 – $4.15 per square foot
How to choose the right stain for outdoor deck or porch?
The easiest approach to choose a stain color is to apply it to the wood and see how it looks. If you don't have any scrap wood, experiment with the different colors on a hidden location on your deck. Don't dismiss a color without giving it a chance. You must also wait until the stain has dried fully before making a decision.
Can you stain a deck with a paint sprayer?
A deck stain sprayer makes it simple to evenly treat decking and railings. A new coat of finish on your deck may make a huge impact in the overall appearance of your property. For recommended sprayers suitable for use with stains, check out our stain sprayer review article here.
What is the best outside temperature to stain a deck?
As a general guideline, with older decks, make sure the temperature is above 50 degrees Fahrenheit, sunny, but not too hot, approximately 80 degrees Fahrenheit. Check the tin for the recommended best temperature to stain a deck, for that particular brand.
After staining deck how long to dry, before using?
When the temperature is over 60 degrees, an oil-based deck stain takes 4 to 24 hours to dry. Water will not "wash" out the oil stain from the wood, thus most can take rain within 12 hours. Before walking on the deck or replacing furniture, give it 24-72 hours to cure completely.
Conclusion
Wood stain, in general, helps to seal your deck against moisture and pest penetration, preventing costly issues like mold, mildew, and wood rot that might cause portions of your deck to sag, fracture, and even collapse if the damage is severe enough.
We hope that with this guide you now have all the knowledge and guidance needed to calculate your stain a deck cost calculation, prepare your equipment, select a suitable stain or product, as well as clean and stain your deck with a roller and brush.
There is a bit of cost planning and prep for staining a deck to carry out before you get started, but it is worth it for the extra longevity and nicer finish that your deck will have in the end.
Happy DIY'ing!
https://nestkoo.com/wp-content/uploads/2022/04/stain-a-deck-cost-and-tips.jpg
487
840
Rach Baxter
https://nestkoo.com/wp-content/uploads/2023/04/nestkoo-logo-diy-home-repair-and-house-painting-for-women-2.webp
Rach Baxter
2022-06-15 18:56:18
2023-04-14 15:13:41
Stain a Deck Cost & Tips | Complete DIY Guide