How to Paint an Adirondack Chair | DIY Project Guide
A terrible paint job, or a 10-year-old one, can turn even the most beautiful Adirondack Chair into something that should be hidden away in a shed. But if your chair is in otherwise great condition, don't let that oh-so-comfy chair waste away. Just repaint it!
Adirondack chairs are perfect for the summer, as you can lounge back, relax, and sip your drink while taking in the sun. These chairs are great for all seasons, including the autumn as you watch the leaves fall around you. Adirondack chairs are worth the investment due to their comfort and style, so you want to be sure to take care of them in the best way possible.
So, let your dusty old adirondack shine again with our adirondack chair painting guide. Make it a creative weekend DIY project, and get yourself a cool looking chair by the end of it. We'll explain how to clean, prepare and paint your adirondack chair (and how to stain it, if you prefer), as well as how to maintain it properly to ensure your new beautiful paint job lasts for many years to come. Let's go!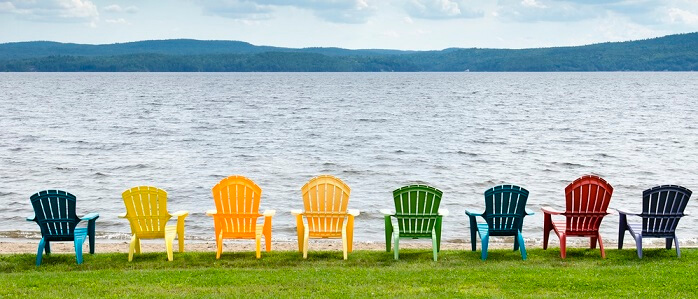 Paint vs. Stain on Your Adirondack
When refinishing your Adirondack chair, there are two options: Paint or Stain.
Painting, for instance, will protect your chair the most from water and the sun. It is also more customizable, though it may look more unnatural. You do need to reapply paint every year, as it does show more dirt overall. It also takes a bit more work as it does chip easily and requires a more thorough job.
Staining your Adirondack for the finish will last longer than paint. It does protect against the elements that may affect the wood as well. The stain also appears more natural, though there are not as many color options and imperfections that may show in the wood.
If you're having trouble choosing paint over stain, here are some advantages to both. In this guide we'll explain how to do both. Paint and stain are similar and choosing between them depends largely on your personal style preference.
Advantages of paint:
Protects the wood from damage
You can customize with any color or design you want
The color is more vibrant than stain
Advantages of stain:
Protects the wood from damage
Gives you a beautiful, natural look
Lasts longer than paint
5 Steps For Painting Adirondack Chair
There are a few methods you can use to successfully and beautifully paint an Adirondack chair. You can hand paint them, spray paint, or use a stain. In this guide I will guide you through the process of all 3 and you can choose what sounds best to you. All of these approaches will give you a beautiful Adirondack chair.
There are several steps when considering how to refinish your Adirondack chair by using paint. Following these steps will ensure that your chair will last as long as possible.
Start with the chair upside down.
Wash off the Adirondack with water to remove dirt.
Sand down the chair.
Brush away the dust from sanding.
Apply the first coat of paint.
After the first coat has dried, apply the second.
Flip the chair, following the above steps on any exposed area.
Let the chair completely dry.
Step 1: Wash the adirondack chair
Before you begin, you'll want to clean the chair as thoroughly as possible. Don't worry about stains, they will be covered by the paint. Any dirt that you can feel should be removed the best you can. Use a hose to spray the chair to remove large debris. Then, you can use a towel or a soft bristle brush to scrub any remaining dirt with a mild detergent. Rinse and towel dry the chair.
Step 2: Sand the surface of the chair
Now that your chair is sparkling clean, you can prepare the surface of the chair for a fresh coat of paint. To be sure your chair has a smooth surface to sit on, you need to sand down the old paint and rough edges. Use a 220-grit sand paper and a sanding block, sand until the surface of your chair feels smooth to the touch.
Step 3: Prime the surface of the chair
It's extremely frustrating to have to redo work you've just done. You've probably experienced that "I just repainted that!" feeling at least once in your life, after a scratch shows up a week later. If you had a primer underneath the paint surface, the paint would have adhered better, and that scratch in your new paint would not have happened. Using a quality primer will keep the paint job like new for longer.
Priming can be an annoying job, but you can get primers in cans to make the job easier. Shake the can of primer for about a minute to make sure it's ready to use. Holding the primer 10-16 inches away from the chair, spray an even coat of primer. Allow the primer to dry.
Step 4: Paint your adirondack chair
For painting by hand
​If you are choosing to hand paint your chair, you'll need a few paint brushes and about a quart of paint.
When you open the paint, be sure to stir it thoroughly with a paint stir.
Using your brush, apply an even coat of paint to all parts of the chair.
When the paint dries, apply another coat.
To reach the underside of the chair, wait until the top is completely dry. Flip the chair over and rest it on a tarp.
Apply two coats of paint to the underside of the chair.
For spray painting
If you are spray painting your chair, the instructions are similar to painting by hand. When you're spray painting anything, be sure to choose a day without a lot of wind. This will keep paint and debris from getting into your eyes or mouth. It will also give you a more even finished project.
Holding the can 10-16 inches away from the chair, spray the paint all over the surface.
Wait for it to dry, then spray another coat. Allow to dry fully.
Flip the chair over on a tarp to reach the underside.
You can also use paint sprayer for painting your chairs.
Step 5: Seal the paint
Using a spray urethane sealant, coat the chair evenly. This is a great way to get a beautiful finish and prolong the life of your chair. Some spray paint has sealant included, so if your spray paint is a paint and sealant, you can skip this step.
4 Steps For Staining an Adirondack Chair
Painted chairs are nice, but what if you're looking for that natural, stunning wood grain look. Staining might suit your style better. Staining an Adirondack chair might be a bit trickier, but we'll guide you through it.
The first thing you should know before refinishing your Adirondack via a stain is to use an oil-based one. Steps are similar to painting your chair, but there are differences between the two.
Sand your chair.
Remove the excess dust from sanding.
Apply a wood conditioner and let it dry.
Brush the stain on in the same direction as the grain.
Let the stain dry, flip the chair and apply the stain to any exposed sections.
Apply a sealant to let the stain set.
Step 1: Sand and clean the surface
Sanding and cleaning the surface of the chair is the same as when you're painting it. Use a 220-grit sandpaper and a sanding block and be sure all areas are smooth. This is extremely important when you're working with stain as it is less forgiving than paint.
When you're finished sanding, wipe down the chair to remove any fine dust that could be leftover.
Step 2: Condition the wood
Using a quality wood conditioner, coat the surface of the chair. Wood conditioner is essential when you are staining wood. The purpose of it is to help the wood absorb the stain better. If you use wood conditioner before you stain, you will get a beautiful and even finish.
You can apply wood conditioner with a brush or a rag. Let the conditioner absorb for 20 minutes but no longer than 2 hours. Remove any excess conditioner that hasn't absorbed with a clean, dry cloth.
Step 3: Apply the stain
Brush the stain on the chair carefully. Stain is harder to work with than paint, so be patient with it until you get the hang of it. Brush the stain on in the direction of the wood grain. This will help the wood absorb the stain better and will give you a more even finish.
Apply another coat once the initial coat is dry. When the top of the chair is dry, flip it over on a tarp and stain the bottom of the chair. Use the same method used for the top.
Step 4: Seal the stain
Just like with paint, you don't want that hard work to go to waste. When you're finished with the staining process and everything has had a chance to dry, you will need to seal the stain in. This will protect it from wear and tear and weather. It will save you from having that "Ugh!" moment later.
Stain sealer usually does not come in a spray can. To apply the sealant, dip a cloth or brush in the sealant and apply it all over the surface that has been stained. Apply the sealant with the grain of the wood. Allow the sealant to fully dry before you use your chair.
Maintenance Tips and Guide
Keep Your Chairs Covered
Make sure you keep your chair covered when it is not in use as well, especially a wooden Adirondack. Wood becomes weathered quickly, especially when sitting in the sun or harsh weather conditions for extended periods. It also expands when it becomes wet, which could ruin the structure of your Adirondack chair over time. Store your chair somewhere that it will stay dry and protected from the harsh lights of the sun. Storing it will ensure that it will last you for years and years without having to replace it very often.
Clean Your Adirondack Chair
If you have a spill or want to wipe dirt from your chair, use a soft wet towel to wipe it off quickly. Do this right after a spill occurs to prevent stains and deterioration to the wood or other materials that make up the chair. Every few weeks, it is best to use a mild soap and warm water on your chair to clean deep stains and set-in dirt.
Make sure to wipe off the soap residue quickly so that you do not have mildew growth on your Adirondack. Another quick method when considering how to clean your Adirondack is to use a pressure washer. The tool will quickly remove the dirt and buildup that is on your chair.
No matter the method that you choose to clean your chair, be sure to let it air dry completely. Drying your chair will avoid the buildup of mold and mildew as aforementioned when your chair is sitting in a covered space.
How Often to Refinish Adirondack Chair
It is imperative that you re-paint or re-stain your Adirondack chair, but how often it occurs is always your decision!
Some owners, for instance, prefer the weathered look where there is a bit of fading on the wood. Others, however, want their Adirondack chairs to be in pristine condition at all times.
With either choice, though, you should try to refinish your chair at least yearly to protect the structure and the wood on your chair. You can even finish your Adirondack with a mold repellant or a UV protector to avoid the harmful effects of water and the sun.
Conclusion
If you have a dusty old forgotten adirondack in your shed, count yourself lucky! Adirondacks are a fun addition to any backyard, no matter where you live. An Adirondack chair is the ultimate form of relaxation, watching the leaves blow-by, the colors change and blooms starting to come out. They will be well worth it, even with the re-painting and cleaning that you should do for these beautiful chairs.
Painting your Adirondack chair will prolong its life and you will want to show it off to your friends. After you re-paint or re-stain your Adirondack chair, you will never want to get rid of it. It would be a shame to throw out your chair or hide it away in storage when you can give it a beautiful new look and have fun doing it.
To add to your chair comfort, try your hand at making some Adirondack chair cushions – check our our article here for instructions.
https://nestkoo.com/wp-content/uploads/2020/04/Painting-an-Adirondack-Chair.jpg
163
350
Jason Brown
https://nestkoo.com/wp-content/uploads/2022/03/nestkoo-DIY-home-security-home-repair-painting-made-easy.jpg
Jason Brown
2020-04-03 10:25:22
2022-05-28 16:54:54
How to Paint an Adirondack Chair | DIY Project Guide