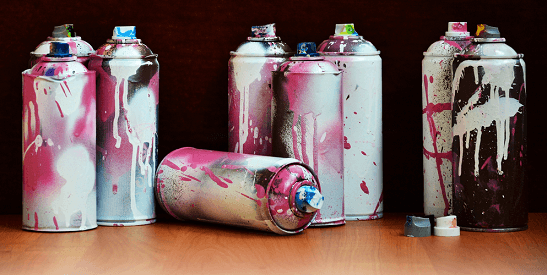 5 Best Spray Paints For Plastic – [2021 Updated]
If you're wondering what you need to paint objects made of plastic, you have come to the right place. Plastic has a certain quality that many paints simply won't stick to, so it's smart to research which paint you can and can't use before you get started.
To paint something that is made of plastic that looks good and lasts a long time, you will need to buy the best spray paints for plastic. This sort of spray paint is guaranteed to take kindly to hard plastic applications and give off a finish that is as smooth and professional as possible.
In this review, we will look at different spray paints for plastics from popular brands such as Krylon, Rust-Oleum and Colorbond. We'll show you each one's strengths and weaknesses, and share which paint we most recommend for use on plastics.
Which is the best paint to use? Without further ado, here are the paints that we will be reviewing today.
---
Our Quick Picks
---
How To Choose the Right Plastic Spray Paints ?
Back in the old days, there were no such paints you could use on plastic. When using applying paint to plastic, the paint would turn into water or dry like a sheet and flake off the surface. With technological breakthroughs today, however, there are paints that not just work on plastic, but other materials like vinyl.
With specialty plastic paint, you can now use paint that gives plastic a professional and even coat. This type of paint has properties that make it bond with the plastic surface and there is minimal risk of peeling, fading or cracking.
Tip: Read the label
While looking for spray paints for plastic, there are important things on the label or the product description that you have to take note of. For one, the paint may work with some types of plastic, but not all of them. You aren't buying the right type of paint if the paint isn't described as something that works with plastic, polyvinyl chloride (PVC) or chloride.
Tip: No primer needed
Spray paints for plastic can be used to paint many different things such as plastic garden furniture, video game controllers, containers, decorations and much more. What is great about spray paints for plastic is that they do not need primer to be used. Vinyl can also be painted with specialty vinyl spray paint.
Tip: Choose your finish
Spray paints for plastic can come in one of several finishes; Either a flat, hammered, glossy or satin finish. Each finish looks appealing in their own right.
Flat finish, or matte finish, is a smooth finish that makes the color pop with no added effects. Hammered finishes are best for objects that are cracked or tarnished, and it comes off a nice metallic effect to make it look like new again.
Glossy finish makes an object look shiny and sleek, like a brand new phone or car. Satin finish is like a hybrid of glossy and metallic, for a look that either makes an object seem more luxurious or feminine.
---
List of 5 Best Spray Paints For Plastic 2021
1. Rust-Oleum Painter's Touch 2X Ultra Cover
This brand of spray paint comes in over 30 different colors for you to choose from. The main appeal to the 2X paint that it offers double the coverage of a typical can of spray paint. This paint has a "fast-drying" formula that goes from wet to dry in about 20 minutes. The finish goes on rather smoothly and you get a professional look and feel with each application.
Rust-Oleum Painter's Touch 2X Ultra Cover – Buy on Amazon
These spray cans come in both gloss and satin variations, and the paint has a creamy and rich appearance to it, which is great at hiding any imperfections. This paint works well with not just plastic, but unglazed ceramic, wicker, metal, wood, plaster and masonry.
This can is rather comfortable to hold, and you can spray paint from any angle. It's no problem if you want to paint overhead, underhand, towards the floor, on the ceiling or upside down.
This is an oil-based paint that is meant to leave a permanent mark. While you should be very careful with it, you also should not expect it to flake or peel off afterwards. It is a durable paint, and the odor that it gives is minimal, at best.
The one problem we have with this paint is that the colors are slightly off. They look okay when they are sprayed out. But once the paint dries, the color changes in certain ways. If you are looking for a pure white, for example, you will instead get an off white. We unfortunately do not think there is a way to work around this.
This paint gives off a smooth, glossy finish. If you are looking to have a sleek and shiny surface, like a new piece of technology, you can enjoy working with this paint. For a glossy paint, however, this is not all that glossy. You can buy regular paint with a lacquer and expect better results. It doesn't have that see-your-reflection-in-it type of gloss, so we basically think this is just a variation of a flat, matte finish.
Pros
Dries fast
Comes out smoothly
Can spray at any angle
Works on many different materials
Is comfortable to hold
Options for satin or gloss finish
Cons
Color is slightly off
Is not that glossy
2. Krylon Camouflage With Fusion For Plastic
Krylon brings up this unusual set of paint that sprays in colors for camouflage. Each color comes in an 11-ounce can, and they are available in woodland lime green, sand, black, olive, brown and khaki.
To clarify, this does not exactly spray in camouflage patterns, but this paint makes it easy for anyone to make camouflage designs if they so choose. You will have to buy two, three, or four different cans in different colors for an added camouflage effect.
Krylon Camouflage With Fusion For Plastic – Buy on Amazon
This paint can bond to plastic, as well as wood, hard vinyl, metal and other materials. Priming is not a requirement, either. This is a flat paint, so it gives off a basic, solid finish. Just like with Rust-oleum's paint cans, you can spray this paint at any angle.
The one problem we have with this paint is that it doesn't dry as quickly as advertised. The label claims to dry in just 15 minutes, but it really almost seems like hours for the paint to become dry enough.
Pros
Priming not required
Works on many different materials
Can make camouflage with it
Can spray at any angle
Cons
3. ColorBond LVP Refinisher
Next up, Colorbond gives us this spray paint that is not just for plastic, but also leather and vinyl (LVP = Leather, Vinyl, Plastic). If you want to repaint leather furniture too, this can be used just fine.
ColorBond LVP Refinisher – Buy on Amazon
There are nearly 100 different colors to pick from total. These colors however, are categorized by the make, model and color of upholstery that you own.
This is not known as a paint, but a "refinisher". What this means is that the object is not really painted; instead what comes out of the can is actually a chemical used to restore color on a piece of furniture or object. For example, if a vintage chair is losing its color, you can only use the same color of paint on it (to restore it); you cannot change the color from, say, brown to blue.
The bright side is that you do not need to chip off the old paint. This refinisher claims to dry within 45 seconds, and created a firm and secure bond with ten. We still recommend regular waiting times in between coats, however.
Pros
Dries fast
Comes out smoothly
Works on many different materials
Has a glossy finish
Cons
Refinishes existing colors rather than paints new colors
4. Rust-Oleum Paint For Plastic Spray
The second Rust-Oleum paint in this list comes in a specialty plastic variety. There are many different colors to choose from, like black, green and taupe. Like the first Rust-Oleum paint, this paint dries in about 20 minutes. You can paint about 10 square feet per can, which isn't the most paint, but still pretty decent.
This is an oil-based and direct-to-plastic paint, and no primer is required. This paint works with all kinds of plastic, like PVC, fiberglass, vinyl plastic and resin.
Rust-Oleum Paint for Plastic – Buy on Amazon
The flaw that we notice with this paint is that it might not even work at all. For hard plastics, it can easily crack and chip off. For softer plastics, it fares better, but we aren't sure if it will hold up, either. While it claims to have "superior adhesion" it really depends on what you are trying to paint.
Pros
Dries fast
Comes out smoothly
Works on many different plastics
Cons
5. Performix Plasti Dip Spray Can
This last can of spray paint is from Performix. This paint comes in an 11-ounce can and is available in many different colors including black and white. It gives off a smooth and professional matte finish.
This is not a spray paint, but rather a rubber coating. You spray it to give an object, such as a tire a thick, black surface. You can use this for cars, wheeled gardening tools, boats, RVs, bikes and more. Dip Your Car gives a pretty interesting look into how plasti dip can be used for coating all sorts of car accessories and parts, if you are into that sort of thing.
Performix Plasti Dip Spray Can – Buy on Amazon
This coating is very durable, so it will not wear off quickly in rain, snow or wind. This is simply a substance made for performance. It certainly will not crack under pressure or get weaker over time. The rubber coating is also a good insulator, so you can reinforce electric cables and make them more safe.
Unfortunately, we aren't really sure if many homeowners want to coat rubber onto plastic furniture and other applications. While it does take kindly to plastic, we are sure that the majority of homeowners want their plastic to still look and feel like plastic.
Pros
Is tough and strong
Comes out smoothly
Works on many different plastics
Can spray at any angle
Cons
Is a rubber coating rather than a spray paint
---
How To Paint on Plastic the Right Way
Painting plastic is a long and diligent process, and it isn't done right without some preparation work.
Clean and dry. Firstly, you will need to clean the plastic object before painting it. You will have to find a way to remove all dirt, grime and other debris from the object. To remove grime and coating from plastic outdoor furniture, like a chair, wash it and apply mineral spirits. If the plastic furniture is old, you will need to use a brush with plastic bristles, as well as warm water to remove stains and old coatings. Rinse the furniture down with some cool water. Once the furniture or other plastic objects are dry, you should be ready to paint.
Test spray. Shake the paint can for in between one to two minutes in order for the paint to be mixed thoroughly throughout the can. Test the paint out first on newspaper, cardboard or another disposable object to make sure that the finish comes out as intended.
Paint it. Position the can from six to eight inches away from the object and spray from side to side. You should give the object a first light coat of paint. Try not to paint too much, or else the paint will run and drip. Before adding another coat, wait for the paint to dry for about 20 minutes. Give the object additional coats sporadically throughout the day.
Let it cure. After 24 hours since your very first coat, wait for up to a week for the paint to cure. In that time, you should decide whether the coat is what you desire or if it needs another coat.
Here are some additional tips for spraying paints for plastic items
Spray paints for plastics will perform the best in temperatures ranging from 50 to 90 degrees or as referred to by the label on the can. If possible, always try to paint outdoors or in a ventilated garage with working fans. If indoors is the only way for you to paint, such as if it is raining or snowing outside and you do not have a garage, dedicate a space for painting and wear a face mask to protect your face as well as your lungs. If you notice a clog in your paint can, simply hold the can upside down for about several second for the clog to undo itself. You should spray smoothly again with no trouble.
Does acrylic paint work on plastic?
Acrylic paint can be adapted to almost any surface, but on plastic, a lot more work is required to get the paint to tolerate it. Acrylic paint is not meant to be used on plastic, as it does not do a great job holding up compared to other paints. Acrylic works better on materials such as wood, paper, stone and other natural materials.
These materials are porous and allow air to flow through them. To attempt to get acrylic paint to work its best om plastic, you will require the right base coats and sealers so that the paint can become more tolerable to the surface. Firstly, you will have to apply a base coat, so that the paint will not crack and peel off later. The base coat makes it possible for paints like acrylic to work well on plastic, metal and other materials. After applying a base coat over the plastic, you are free to paint over it.
---
How do you remove paint from plastic?
Scrape it off
To paint something like a plastic piece of furniture that has already been painted, you will need to remove the old paint off first. If the furniture is rather old, and you think the paint is rather loose, you can try to scrape the paint off using a razor blade, a scraper or a plastic putty knife.
One thing to keep in mind, though, and that is do not scrape too hard. The harder you run your tool, the more likely you can accidentally carve the object's surface and leave a permanent mark. A razor blade is also considered the last resort, due to its sharpness and dangerous properties.
Vegetable oil
Vegetable oil is a decent substance that you can try to use to help remove paint from plastic objects.
Using a rag, rub some on a painted surface hard enough until the paint begins to work its way off. If the oil does not work, perhaps you can try a solvent that is more effective.
Denatured alcohol
One that is proven to be more effective is denatured alcohol. Denatured alcohol, however, is dangerous to handle, and you should try to never touch, smell, or taste it. With that in mind, you will need some protective equipment before proceeding to use denatured alcohol. Wear rubber gloves so that the liquid does not touch your hands or arms. Wear a protective mask so that you do not inhale the alcohol.
If possible, work in a well-ventilated area or use a portable fan so that the air can pick up the fumes from the alcohol and move away from you. Test the denatured alcohol first so that it will not harm the actual plastic, but just the paint. When you leave the alcohol on top of the painted plastic, the paint should start to wrinkle.
With a plastic putty knife, you should be able to safely tear the paint away and off of the object. Then, you should be able to follow that up with a rag, making sure that all the paint is removed. When you know that the object is completely free of paint, dry it off and get ready to add yours.
---
Final Verdict
The best spray paint for plastic that we most recommend to you is none other than the Rust-Oleum Painter's Touch 2X Ultra Cover. Simply put, we love using this paint. It comes in various different colors, it comes out very smoothly and the time it takes to dry is reasonable, at best. But the main reason why we picked this spray paint for plastics is how it conserves paint.
Usually you get a cloud of mist every time you spray your paint, but this paint can is designed in a way that directly any and all paint to your surface so that you do not have a portion of your paint going to waste. This 2X paint from Rust-Oleum does not really create much of a glossy sheen, but we still find it a paint that homeowners will love using. That is why it is our most recommended spray paint for plastics.
https://nestkoo.com/wp-content/uploads/2018/11/Best-Spray-Paints-For-Plastic.png
275
547
Todd Davis
https://nestkoo.com/wp-content/uploads/2022/03/nestkoo-DIY-home-security-home-repair-painting-made-easy.jpg
Todd Davis
2018-06-27 14:11:59
2022-03-21 03:46:13
5 Best Spray Paints For Plastic – [2021 Updated]