Best Cabinet Door Bumpers for Noise Dampening [2023]
Put your cabinets in silent mode when you close them! Protect both your doors and ears from damage with the best cabinet door bumpers here.
BANG! The sound makes you jump. You take your eyes off your laptop and lose focus. What's going on? The sound came straight from your kitchen. Oh, it's just your kid getting some Nutella from the lower cabinet. You get back into what you were doing then BAM! Again. Once more, the sound gets on your nerves, as your spouse grabs the sugar bowl for their cup of tea.
No, you can't take it anymore. Something needs to be done about these nerve-racking noises. You go to your kitchen looking for a way to do something about it, and your temper gets even hotter as you notice a crack on the cabinet door. 'Am I having the worst day ever?' you think to yourself. Well, this could go on every day, or you can stop this once and for all by getting the best cabinet bumper.
With the best cabinet door bumpers (aka door bumper pads), your family can slam the doors of your cabinet as hard as they want, and you won't be bothered by those nerve-racking bangs. And those cracks? The pads will save your cabinet from that damage too. Impressed already? Well, come along and I'll guide you to the perfect bumper pads right here.
In this article we review the best cabinet bumpers we've found in 2023, taking into consideration features such as noise dampening, material, durability, thickness and ease of application. We also give you tips on what specs to look for when buying your pads.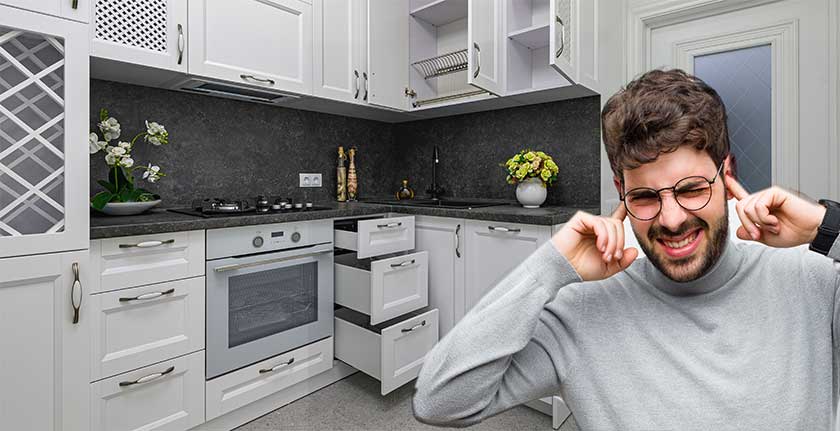 What are Cabinet Bumper Pads?
Cabinet door bumpers are an extremely easy and cheap addition to doors, drawers and cabinets in all areas of your home, which will vastly improve your everyday comfort levels.
Bumper pads act as a barrier between your door and cabinet to absorb shock as you close doors, thereby lowering the noise that is produced when you're closing doors as well as preventing damage caused by slamming. Cabinet bumpers are versatile enough to be used with interior decorations such as bowls and vases, electronics such as keyboards, and furniture.
Things to Consider Before Buying Cabinet Door Bumper Pads
So, you want to buy the best cabinet door bumper pads – great! However, you might end up purchasing the wrong product if you don't know what features you should look for while buying it. To make sure that doesn't happen, take a look at these features you should consider before getting cabinet door bumper pads.
Nosie Reduction
One of the major reasons for installing cabinet door bumper pads is to cut down on noise, so naturally you want to get a set designed for noise dampening. Generally, the softer the material that the bumper is made from, the quieter it will be when the door is slammed, as it will absorb more shock. Therefore, silicone pads are quieter than harder pads, such as those used on the bottom of chairs and tables.
Material Matters
The material defines the durability of your product. If you buy the pads that are not durably made with better quality material, they won't survive in the long run. I prefer going for the pads that are made of strong silicone or polyurethane. These pads are the most durable ones and survive all the slams you can throw at it for years.
More Pads = Better
Let's face it, everyone wants to have more. When it comes to bumper pads, you will find there is a huge variance in pack sizes. In some brands you'll find a huge number of pads in one set, while others will disappoint you as they come with only a few bumper pads in each pack.
Make sure the set you're buying has at least 100 bumper pads. There are some door bumpers that have got about 30 to 60 pads in one set, but I wouldn't go for them if I were you.
Besides, if you get a pack with a lot of pads, you can put any leftovers on your glass tabletops, under your keyboard, fruit bowl etc.
Grips: The Stronger, the Better
If the pads do not have a strong grip, they won't stick on your cabinet for long. The grip has to be super strong, and the pads you're buying should be self-adhesive.
Also, make sure these grips do not create any permanent spot on your furniture after you peel them off.
Colorful Isn't Always Great
A lot of people love colorful bumper pads. I don't. Trust me, they not only just ruin the look of your décor but also hide the interior design of your furniture.
You want clear pads that have subtle appearance, like a water droplet. These pads are transparent and blend in perfectly with the color of your furniture. So even if you stick them on your cabinet, drawer, etc. you'll hardly notice their presence and they look much more elegant.
The 6 Best Cabinet Door Bumpers For Noise Dampening [2023]
BEST QUALITY
GorillaGrit Cabinet Door Bumpers
✓ Discreet, sleek design
✓ Excellent noise dampening
✓ Waterproof
✓ Easy to remove, doesn't leave marks
✘ More expensive than other options
BEST BUDGET
DAMPONE Cabinet Door Rubber Bumpers
✓ Range of different shapes
✓ Good quality overall
✓ Waterproof
✓ Large, cost effective pack sizes available
✘ Durability is questionable
Anicco Cabinet Door Bumpers Self-Adhesive Pads
Annico Cabinet Door Bumpers (200pcs) – Buy on Amazon
If you're after the most durable, best cabinet door bumpers, look no further than this option from Anicco. Backed with powerful adhesive and anti-slip, these door bumper pads will not slip off easily, so you can rest assured they will stand the test of time. The quality of these cabinet door bumper pads is excellent. Made from silicone, they are soft and durable. Not only do they effectively dampen the noise caused by closing cabinet doors, but in the long run they help lessen the impact damage on your furniture and cabinets.
Applying these pads is easy, yet when you need to peel it off, they don't leave a trace. Before you install these door bumper pads, just ensure that the surface you're applying to is smooth and very clean.
Anicco cabinet door bumpers come in a 200-piece pack, enough to allow you to use them throughout your entire home interior. Place them on cutting boards, laptops, table tops, chairs, cabinets, doors, picture frames – you name it.
While great quality cabinet bumpers overall, these pads can be a little pricey if you need to buy several packs. Yet, for the quality and design, we think they're still great value.
Pros
High quality, silicone pads
Clear design blends in with your furniture
Best sound dampening cabinet door bumpers
Cons
BAIPOK Cabinet Rubber Bumpers
BAIPOK Cabinet Rubber Bumpers – Buy on Amazon
Like the Anicco cabinet bumper pads, the quality of these BAIPOK bumper pads is excellent. Don't let the name fool you. Although they are called 'rubber bumpers' in their product name, they are in fact made from silicon, not rubber.
Since they are made using silicone material, the durability and softness of these pads far exceeds any non-silicone kitchen cabinet door bumpers you'll come across in the market.
BAIPOK Cabinet Bumpers come in a 200-pack circular dot shape, giving you enough to use all around your home. At 0.2" height and 0.4" diameter, these clear bumper pads won't be visible to anyone nor negatively impact on the aesthetic of your furniture.
If you're on the hunt for the best sound dampening cabinet door bumpers, these BAIPOK pads are a good choice for lowering the noise caused by closing by cabinet doors, and will also protect your furniture against impact damage.
These pads come with powerful self-adhesive to ensure they stay stuck for a long time. What's more, they are affordable.
Pros
Strong self-adhesive suitable for a wide range of applications
Clear design blends in with your furniture
Effective sound dampening and noise reduction
Designed to last a long time
Cons
GorillaGrit Clear Adhesive Cabinet Door Pads
GorillaGrit Cabinet Door Bumpers – Buy on Amazon
If taking care of noise from slamming cabinet doors is your prime concern, you can take a look at GorillaGrit clear adhesive bumper pads. Closing the doors of your cabinet won't be a problem from now on. These pads provide the perfect cushioning to protect your furniture from getting damaged.
These bumper pads are made from high quality polyurethane that assures you strength and durability. These pads are very easy to apply, with strong self-adhesive that works on a range of surfaces such as wood, glass, granite, metal, ceramic and more. Just pat them on the area you want the pads to stick on and Voila! Moreover, they have a sleek transparent design meaning that you can stick them on doors and furniture without compromising the look of your room.
They are also one of the quietest cabinet door bumpers we've come across, offering good sound dampening on your drawers, cabinets, picture frames and glass table tops. Plus, these pads will nicely protect your surfaces from damage resulting from accidental banging or slamming. As well as cabinet doors, these bumper pads work well on furniture tops by applying them to the bottom of your vases, boxes, bowls and electronics, thereby preventing any wear and tear on your table.
Unfortunately, bumper pads often create spots on furniture after you peel them off. GorillaGrit is an exception in this case. If you peel these pads off even after a year, they won't let a single spot sit on your furniture. As a result, your cabinets and doors maintain their finish 24/7.
With their super-strong adhesive, these pads hold on firmly. However, it is worth mentioning that some people have complained about these pads sliding off over time, so be extra sure to clean and dry your surface thoroughly before applying them.
They are a little pricey, but considering they are the best quality and quietest cabinet door bumpers we've come across, we feel they are worth every penny.
Pros
Effective furniture protection
Strong adhesive
Waterproof
No marks or residue after peeling them off
One of the quietest cabinet door bumpers
Cons
A bit on the expensive side
X-Protector Cabinet Door Bumpers
To be honest, despite the good reviews these pads have received, these cabinet door bumpers from X-Protector are not our first choice. The reason for that is in the image… as you can plainly see, they are brown. X-Protector bumper pads come in either brown or beige, which is fine if your cabinets or furnishings are also brown or beige. If not, give these a miss, as they will be an eyesore.
X-Protector Cabinet Door Bumpers – Buy on Amazon
If you are not concerned about the brown color, there are some upsides to these cabinet bumpers. They have a strong adhesive, sticking to your surfaces for a very long time. They are also of reasonably good quality, protecting your furniture effectively from any impact damage and to help dampen those banging sounds.
They are also easy to install; just stick and press them onto the surface. Then again, pretty much all bumper pads are easy to install. Our honest verdict? Skip these; there are better options out there.
Pros
Easy to install
Thick enough to prevent any disturbing noises
Strong adhesive suitable for a range of surfaces
Cons
Too thick to use for many applications
Only available in brown or beige
DAMPONE Cabinet Door Rubber Bumpers
DAMPONE is a brand that never disappoints when it comes to quality, and their cabinet door bumper is no exception. Their superior quality cabinet door bumpers come in a range of shapes including cylindrical, hemispherical and square, in affordable 100pcs or 200pcs pack sizes. These cabinet bumper pads are made with clear silicone, and will blend in nicely with your décor.
DAMPONE Cabinet Door Rubber Bumpers – Buy on Amazon
As for quality, these DAMPONE bumpers provide very effective cushioning to prevent your cabinets and counters from being damaged by accidental slamming, and to dampen those annoying banging sounds. As well as kitchen cabinets, these bumpers work well on electronics and decorative pieces.
These bumper pads are waterproof, meaning they won't be damaged or slide off when you're doing general household cleaning. Installation is also super easy. We are unsure about their long-term durability, however, so if longevity is of importance, you might want to check out one of the other sets on this list.
What's more, this is the most affordable set you can grab in our list, without compromising on features. That's why we've named it the Best Budget pick.
Pros
Good surface protection and sound dampening
High quality silicone material
Waterproof
Affordable
Cons
MozoLand Clear Cabinet Door Bumper Pads
So, you've gone through the other reviews and you're probably thinking one of those options will do just fine. Except, you want more pads in a set. If that's the case, you should get your hands on the clear rubber bumper pads by MozoLand. Nope, not just 100 or 200, the whole package hands you out an impressive amount of 300 pads. The best part? It has got all the size variations that you could want or need around your home.
With these bumper pads, you can say goodbye to all those noises as you close the doors of your cabinet. MozoLand cabinet door bumper pads minimize all those slam-hard noises like magic. No, they're not going to get smashed while guarding your furniture. These pads are durable and strong enough to withstand all the force your door can come with.
MozoLand Clear Bumper Pads – Buy on Amazon
I know you don't like those colorful pads that hide the color of your furniture; no one does. Wave off all the stress; nothing will hide the beauty of your furniture. These pads have water-droplet like color and transparent.
Behind your door, lamp, drawer, vases, you name it; the pads will blend in everything perfectly. If you want, you can also use it under the surfaces of glass, plastics, metal, and ceramics, thanks to the rubber sticky feet the pad comes with.
Pros
The pads come with an impressive 300 pads in one pack
They minimize sound even when you slam the door
See-through pads that blend in perfectly with your furniture
Not just cabinet doors; you can use them on glass, plastics, metal and ceramics
Cons
Once peeled off, the pads may lose their gripping strength.
Wrapping Up
Well, that was pretty much it about the best cabinet door bumper. Pick up a pack or two of these bumpers, and you're just a few steps away from eliminating all those irritating slams, bams and bumps around your home.
If you're still not sure which brand to go for, grab the Anicco Cabinet Door Bumpers from Amazon. They are great value – an excellent balance of features, quality and price, backed by heaps of 5 star reviews on Amazon. As long as you prepare your surface properly before applying, you can't go wrong with these kitchen cabinet door bumpers.
Are you still having second thoughts? Let me ease you up.
Installing door bumpers on your cabinets is a really easy and cheap fix, that will make your everyday life so much more comfortable, especially if you are sensitive to noises. Sure, maybe you'll save a few dollars if you don't go for these products, but the value you'll gain from adding these inexpensive bumpers to your doors will far outweigh the cost.
Even the most expensive bumpers on this list will cost you less then $20, which is an incredibly cheap DIY fix compared with other jobs around the home. So, before you talk yourself out of it, make sure you pick up these amazing pads right away and get sticking! You'll wonder how you lived without them.
Looking for more easy home fixes? Consider replacing your door knob with a door lever, with our door lever article and reviews here.
---
This article was originally written in 2020, updated on 16 April 2021, 13 March 2022, and 22 February 2023.
https://nestkoo.com/wp-content/uploads/2020/12/4-Cabinet-Door-Bumper-Pads.jpg
434
750
Todd Davis
https://nestkoo.com/wp-content/uploads/2023/04/nestkoo-logo-diy-home-repair-and-house-painting-for-women-2.webp
Todd Davis
2023-02-22 11:41:00
2023-04-16 17:23:10
Best Cabinet Door Bumpers for Noise Dampening [2023]