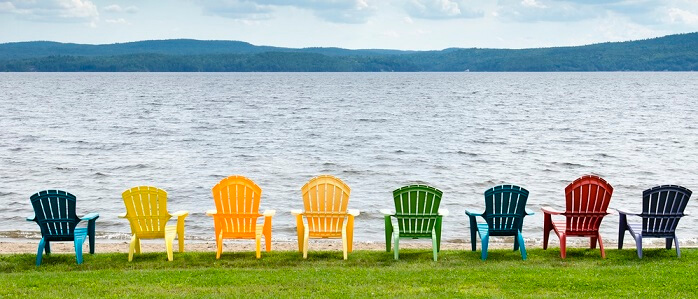 8 Best Adirondack Chairs For 2022 [Updated]
If you're like most people, relaxing outside means having an excellent chair in which to sit. Listening and watching the world go by is all the more rewarding when you are both comfortable and content.
Although there are lots of options for outdoor seating, we believe that nothing compares to having the best Adirondack chair. Since their inception, these chairs have become a staple of outdoor activities, both for relaxing and unwinding after a long day.
If you want to capture that feeling, then you'll want to pay attention to the following chair models. When it comes to options, these are the best Adirondack chairs that you can find.
---
Our List of Best Adirondack Chairs 2022
1. Lifetime Faux Best Wood Adirondack Chair
Lifetime Faux Wood Adirondack Chair – Check Price on Amazon
When the Adirondack chair was first invented, the best option that you had when picking one out was to buy a model made out of wood. Although plastic versions have existed for a long time, they are usually constructed of a thin material that will warp or bend over time.
Fortunately, this model from Lifetime is designed to last as long as you need it without succumbing to the ravages of time. Whereas wood can rot, splinter, and fade over years of use, this chair is constructed from heavy-duty polystyrene.
Here's why this material is better than wood (and other forms of thin plastic). First, it doesn't stain easily, which means that you can enjoy it all year round without developing dark or splotchy areas in the process.
Second, it won't rot or splinter over time. You can keep this chair out for months or years at a time, and it will seem as good as the day you bought it. The durable polystyrene construction will hold up in almost any weather, regardless of how long you leave it outside.
Finally, this Adirondack chair is better than wood because it retains its color for longer. Wood has to be repainted or stained on a regular basis to ensure that it remains in tip-top shape. Fortunately, you don't have to go through any kind of ritual with this chair. Just bring it out whenever you like and use it as often as you desire.
One thing that's a little confusing, however, is the name Lifetime. Many people think that means that the Adirondack chair has a lifetime warranty. This is not the case. Instead, it comes with a comprehensive two-year warranty, which ensures that you can put it to the test to see how it holds up during a couple of winter seasons.
Pros
Available in gray or brown
Durable UV-protected polystyrene plastic
All-weather chair-
Stainless steel screws for reliability
Faux wood design
No cracking, peeling or fading
Stain resistant finish
Fast assembly
Two-year limited warranty
Cons
In rare cases, the plastic may stain slightly
The middle slats are not as thick as other models
2. POLYWOOD Classic Folding Adirondack Chair Review
POLYWOOD Classic Folding Adirondack – Check Price on Amazon
As we saw above, there are plenty of reasons to ditch wood when picking out the top folding Adirondack chair. If you want something that will last longer and not deteriorate over time, then faux lumber is one of the perfect ways to go. In this case, we're looking at a model made of proprietary Polywood.
Like other Adirondack chairs out there, this material is made of high-density plastic. However, you don't have to feel guilty about buying something like that, as this version is environmentally friendly. Most of the time, faux wood is created by using toxic chemicals and processes. Fortunately, Polywood is made from up to 90% recycled materials.
The other great thing about this chair is that it folds flat. All you have to do is pull out a couple of screws from the back, and it will fold into an almost perfect shape. This enables you to store it efficiently, or bring the chair with you on your travels. Imagine having your favorite outdoor chair with you on the beach or at your next campsite.
Maintaining this chair is a breeze, even when compared to other plastic models. First of all, the color won't fade over time, meaning that you will enjoy the vibrancy and illustriousness of your favorite shade for years to come. Best of all, this chair is available in 13 different hues, making it easy to find the right one to match your personality.
Secondly, all it takes to clean this Adirondack chair is some soap and water. As dirt and dust collect on the surface, you can wipe it down in minutes, and it will look as if it's brand-new. This is the power of Polywood. In fact, to illustrate their point, the company that makes this chair is offering an incredible 20-year warranty on it. That should give you the confidence to buy right there.
Pros
13 color options available
Folding chair for easy storage
Contoured seat for better comfort
Made of Polywood, a wood alternative
Made of 90% recycled materials
Washes clean with soap and water
Fade and stain resistant
Won't crack, peel, or splinter
Faux wood grain finish on most models
20-year limited warranty
Cons–
Heavier than other models
More expensive than others chair
3. Highwood Hamilton Folding Adirondack Chair
Highwood Hamilton Folding Adirondack Chair – Check Price on Amazon
When you think of the best rated Adirondack chairs, you probably assume that wood is the best material around. However, the problem with it is that wood cracks, splinters, and degrades over time. This means that you have to spend each season treating and staining the material so that it will last another year without rotting or falling apart.
Fortunately, that is not an issue with the Highwood Hamilton Chair. This model is made from high-quality recycled plastics, ensuring that it lasts year after year without any maintenance or upkeep.
At first, you may think that plastic is worse for the environment (since wood is all-natural). However, Highwood produces these chairs with eco-friendly processes, meaning that you don't have to worry about polluting or contaminating the environment by buying this.
Strength and durability are essential to this chair. It has a stainless steel skeleton inside, which makes the whole thing heavier and more robust. You never have to worry about the chair blowing over in the wind or breaking down during the winter.
Convenience and comfort also come standard with the Highwood Hamilton Adirondack Chair. First of all, you get to recline in this model, which is rare for most Adirondack chairs. Second, it folds all the way down so that when you do store it, it takes up less room. Finally, it has contoured surfaces that fit your body better so that you can relax and feel comfortable for hours on end.
All of these features, coupled with the fact that this chair comes with a remarkable 12-year warranty, means that you can enjoy the Hamilton for years without any maintenance or expensive upkeep.
Pros
12 different color options

Two sizes available: adult and king

Made from recycled plastic

Eco-friendly design

Gently curved back for better ergonomics

Reclining option for better comfort

Fade-resistant material lasts longer

Durable stainless steel interior

Low-maintenance design can sit outside all year

12-year limited warranty
Cons
In rare cases, the screws may start to loosen over time

The material is porous and can lead to algae or mold growth
4. Trex Outdoor Furniture Cape Cod Folding Adirondack Chair
Trex Outdoor Furniture Cape Cod Folding Adirondack Chair – Check Price on Amazon
This Adirondack chair is another faux wooden option. No matter where you go, this is going to be the preferred style, because it's so much easier to manage and maintain in the long run. Also, you can save a lot of money overall by forgoing material that needs to be treated, stained, and painted on a regular basis.
What's interesting about this folding Adirondack chair is what's it's made from. Like Polywood or Highwood, this brand utilizes recycled materials, but the base ingredient for all of their pieces is retired and ground-up milk jugs. Apparently, this particular type of plastic works well for all-weather sitting and relaxing.
Unlike some other chairs, this chair is really easy to set up. It comes with a set of instructions (one page, by the way), so all you have to do is follow along. Just be sure to put the back two pins in the correct space.
As you can imagine, this Adirondack chair also folds down for easy storage and relaxation. We highly recommend finding a model that does that since it will make your life so much more efficient. If you like to travel outdoors on a regular basis (i.e., the beach, the woods, or outdoor festivals), then being able to fold the chair and take it with you is priceless.
Much like the previous eco-friendly and recycled plastic chairs, this model has all of the same attributes that you've come to expect. First, the color you pick (one out of seven overall) won't fade over time, ensuring that you get the same brilliance and saturation that you got when you first bought the chair. Secondly, the material is relatively lightweight and won't rot or splinter after a few seasons.
Maintaining this Adirondack chair is a snap, and it will allow you to focus more on rest and relaxation than making repairs or treating the surface with stains and paints and varnishes.
Pros
Seven color options
Durable faux wood material
Stainless steel frame for added reliability
Folds flat for easy storage
Fast and easy assembly (less than 30 minutes
No need for staining or painting
All-weather design
Lumber is made from recycled milk jugs
Cons
More expensive than other models
May sit lower than other Adirondack chairs
5. POLYWOOD South Beach Adirondack Review
POLYWOOD South Beach Adirondack – Check Price on Amazon
If you're looking for a stable and reliable Adirondack chair, then you will love what the South Beach model has to offer. Made from Polywood, this unit is built to last longer than traditional wood, while keeping the same kind of appearance and timelessness that wood provides.
The South Beach Chair is stylish and will look right at home on any porch or patio. There are 13 amazing colors from which to choose, including black, green, blue, and red. Also, because they are made of plastic, the hues are much brighter and more vibrant than you would get with painted wood, and they won't fade or crack over time.
Polywood is constructed from high-density polyethylene (HDPE) plastic. This means that it will last for decades without breaking down or rotting away. Unfortunately, HDPE is not as friendly for the environment, but it is recyclable. According to the manufacturer, this Adirondack chair should last up to 20 years without any problems.
When it comes to comfort, the South Beach Chair is exquisite. It uses a contoured design to provide the support you need without creating pressure points. Unlike most other hard chairs, you can sit in this model for hours on end without developing any numb or sore areas. Although we would appreciate if this unit reclined, it offers decent seating options without such features.
Another great thing about the South Beach Chair is that it's heavy. Usually, plastic Adirondack chairs are lightweight and can blow over in a stiff wind, but this one will stay put. It would take a tornado or hurricane to move this chair, which makes it an ideal choice for year-round seating.
This model is made proudly in the USA and comes with an incredible 20-year limited warranty.
Pros
13 vibrant color options
Roomy, contoured seat for better comfort
Polywood is made of recycled plastic- No waterproofing or staining required
Chair has appearance of painted wood
Maintenance-free design lasts all year long
20-year limited warranty- HDPE materials are strong and more resistant
Commercial grade stainless steel hardware included
Cons
Does not fold or recline
Not as eco-friendly as other models
Some assembly required
6. Elk Outdoors The Essential Adirondack Chair
Elk Outdoors The Essential Adirondack Chair – Check Price on Amazon
When you buy an Elk Outdoors chair, you are assured of quality. In addition, this comfortable seat is ridiculously easy to assemble, one person can do it in under a half an hour.
Every piece of furniture they offer is proudly made in the USA, of their own unique synthetic wood. The beautiful colors of these chairs are perfectly suited to match an inviting atmosphere, and they are sure to be durable and able to handle the weather well.
While these Adirondack chairs are a little heavier than other popular models, they are also sturdy and will continue to look great. These chairs would be a great addition to a fire pit, or any other feature in your yard.
They have an elegant, sturdy look that will perfectly complement a verdant scene. Be aware that the back of the seat is very low, so shorter users of this chair may have their feet held off the ground. These lovely, classic chairs are the perfect complement to any feature you have in your yard.
Pros:
Designed by professionals to ease any tension you may be carrying in your back or joints
Made of hardy synthetic wood resistant to fading from the sun as well as water damage
Perfectly suited to updating your existing design scheme for your outside retreat
Very sturdy and able to bear up to 340 pounds
Cons:
Neither folds nor reclines, making storage a hassle
Should not be painted, cutting down on how much you may customize
7. POLYWOOD SH22SA Seashell Adirondack Review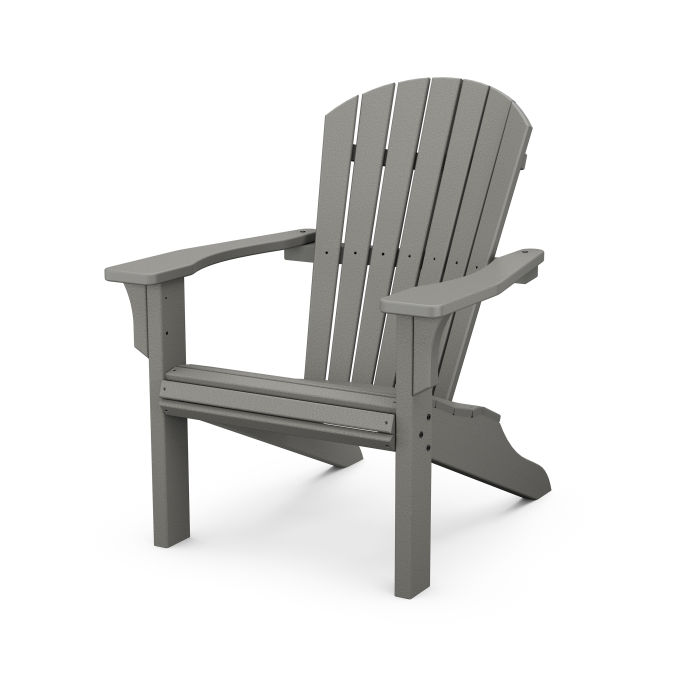 POLYWOOD Seashell Adirondack – Check Price on the POLYWOOD website
This Adirondack chair features a curved back and a perfectly contoured seat to help you relax to the fullest. This chair uses a recycled composite material that mimics closely the look of real wood but it does not require as much maintenance.
You get the allure of painted wood without the cost and time required to keep them looking good. The construction of this chair is sure to be sturdy due to its use of pure stainless steel hardware.
There is some assembly required, but the finished product is going to be a treasured piece of furniture. In addition to being a durable-looking piece of furniture on which to sit, these Adirondack chairs are also among the easiest to put together. These are guaranteed to support up to 300 pounds and do so with comfort and style.
These are very well suited for entertaining, offering a comforting seat and polished look to complete any decor. These seats neither fold nor recline, but their present shape is tailored for your comfort, with perfectly aligned seats and backs for the ultimate in comfort.
Pros:
The finish is resistant to damage from outside forces, such as the weather and the growth of fungus
It has all the looks of painted wood but is much easier to care for
They come together in a flash, with a sturdy construction
Cons:
These chairs do not fold or stack, making storage difficult
8. DURAWEATHER POLY King Size Folding Adirondack Chair
DURAWEATHER POLY King Size Folding Adirondack Chair – Check Price on Amazon
The soft neutral color of the grey polyurethane used to coat this chair can fit in with just about any style. In addition, this is a king-size chair, guaranteed to give you a comfortable fit.
Many Adirondack chairs that feature this size are difficult to store, being bulky and taking up too much room. However, this model is foldable, meaning you can store it in a tight space with ease.
Not only is this chair designed with your supreme comfort in mind, but it is also crafted of some of the most durable materials available, making it a sturdy investment piece. These materials include composite lumber called DURAWEATHER which is made of particles that are specially treated to offer the best in weather resistance.
These chairs mimic the look of a real wood chair, but you never have to provide the time-consuming and occasionally costly maintenance that wood ones require. This chair not only is incredibly durable and can stand the test of time, but it is also a lovely addition to any outdoor venue where relaxation is an ultimate goal.
Pros:
High quality, durable materials that are resistant to weather
Includes powder coat painted Marine Grade hardware that is guaranteed to resist damage from chlorine or salts for de
icing pavement
Make storage a breeze, with their foldable, stackable quality
Cons:
The large size is a concern in constrained spaces
This is a heavy piece of furniture, weighing almost 50 pounds
---
Best Way to Use an Adirondack Chair
Adirondack chairs can be used in a variety of settings. Homeowners use them in many types of outdoor situations. They can be placed on porches, decks, and patios. The chairs can be used to compliment a garden setting with a water fountain.
Adirondack chairs can be placed by a large shade tree in a yard to get relief on a hot day. Some people use them in Sunrooms inside their homes. Businesses often use them to compliment the front entrance to their restaurants and stores to allow customers a place to sit comfortably.
Adirondack chairs can be found around area lakes and the ocean beachside. Some apartment complexes have them placed around swimming pools and other outdoor settings. These chairs can be used in many situations to complement their surroundings.
---
How to Choose the Right Adirondack Chairs
Material
More than anything else, the material of which the chair is built is going to dictate a few of the most crucial features. First, it will determine how long the chair is going to last overall. Second, it will allow you to figure out how comfortable it is. Finally, the right material will be lightweight and mobile enough to where you can take it with you wherever you go.
So, with that in mind, here are the top choices for best Adirondack chairs.
Wood: this all-natural material is perfect for those going for a traditional appearance. The benefit of choosing solid wood is that it's usually more cost-effective, and you can swap colors after the fact by painting the surface. The best woods are cedar or teak.
High-Density Polyethylene Lumber: this is a particular form of plastic that has incredible durability and longevity, although the process for making it is kind of toxic and harmful to the environment.
Recycled Plastics: if you like the idea of having a chair that won't break down or splinter over time, but you also care about the planet, then this is going to be your best option.
Aluminum: these Adirondack chairs are few and far between, but they will last a long time. However, metal can be cold in the winter and hot in the summer, so it's a risk regardless.
Another things is ottoman, It will be more good if the chair comes with built in ottoman.
Seasonal or All-Weather
Although the material you choose is going to help determine whether you can keep the chair outside all winter, some models are more robust than others. Even though the label says "fade and stain resistant," there is quite a bit of leeway with that term. Some manufacturers have lower standards of "resistance" than others, so you have to be careful about that.
The other thing to consider with all-weather chairs is that it may not be worth it to leave it outside all the time. If you put it away during the harshest and coldest months out of the year, it will not only last longer, but it will be usable in other parts of your home as well. Thus, instead of watching as your favorite lounger gets buried in snow, you can sit inside by the fire, relaxing and getting toasty.
Folding and Reclining
For our money, we highly recommend choosing an Adirondack chair that offers some level of customization. Considering that you will want to adjust yourself as the hours march on, having the ability to recline is going to make your time spent on the chair that much more valuable.
The other benefit of having a folding Adirondack chair is that you can store it easily. Since you can compress it flat (or almost there), it enables you to take it with you on trips and various outings. This way, you don't have to leave the comfort of home while you head out on an adventure.
Size and Dimensions
Although the best outdoor Adirondack chairs all have the same (or similar) shape, that doesn't mean that they are all created equal. As such, you have to pay attention to a few things to ensure that your model will fit your body type perfectly.
Chair Height: typically, Adirondack chair sit low to the ground. However, it's nice to have some leverage so that it's much easier to get out, rather than relying on your arms to lift you from the seat.
Back Height: if you plan on reclining or relaxing in your chair, then you have to make sure that it can support your head as well as your neck and back. There is nothing worse than trying to relax and discovering that you have no support.
Width: because these Adirondack chairs are more rigid than others, and because they come with thick, heavy armrests, you have to be sure that you will be able to get in and out relatively comfortably. If the chair is too thin, then it will squeeze you the whole time. If it's too wide, then you won't get the arm support you need and crave.
Weight Limit: usually, these chairs are thicker and more supportive than most, but that doesn't mean that anyone can use them.
Style
Finally, you have to remember that best Adirondack chairs are similar in shape, but not in form. Some of them have rounded tops and armrests, while others are more square. In some instances, the material is thicker to provide better support, whereas in other models it may be thin and flimsy.
Be sure to compare different designs and color options when looking for the best outdoor Adirondack chair. Because this is going to be something that you'll utilize often, it's imperative that you put the time and effort into getting it right.
Here are the most common styles from which to choose.
Classic: Arched back and clean lines
Oversized: Wider and fatter for better support and stability
Long Island: Sharper angles and taller backside
South Beach: Flared arch and softer corners
Modern: Square features and taller back support
Cushioning
Fortunately, Adirondack chairs are designed to contour to your body, which means that they should be comfortable without any add-ons. Nonetheless, some models are more comfortable and supportive than others, so you may decide that getting a cushion is the right move.
If you decide to go this route, we highly suggest that you buy it from the chair manufacturer if possible. This will ensure that it will fit, and it should be more durable when exposed to the elements. You can either get cushions for the bottom or the back or both. Also you can make cushion yourself by following our guide.
---
Frequently Asked Questions (FAQ)
How to Protect Adirondack Chairs?
Spending a small amount of time on maintenance will help keep Adirondack chairs beautiful for many years to come. The type of wood used for these chairs plays an important role in how they can hold up to the outdoor elements.
Mahogany wood is maintains beauty year after year with little upkeep. Red Cedar is another popular choice that is moisture resistant.
When To Refinish Adirondack Chairs?
Sunlight and exposure to weather will influence how often you should spend time doing maintenance to the chairs. Adirondack chairs need to be refinished every several years to maintain their beauty.
The chairs can remain outdoors throughout the year but temperature extremes can influence how the furniture will age. This depends on what type of wood the chair was built from. Pine can turn color quickly over chairs built from red cedar.
How To Clean Adirondack Chairs?
Furniture that is placed in the outdoors should be cleaned periodically. This depends on where it is located and what types of weather-related conditions are present. A good cleaning should be done every several months to remove dirt and stains.
Adirondack chairs can be cleaned with a wood-cleaning product if they are originally made from solid wood materials. An Adirondack chairs made from plastic materials can be cleaned with a mild soap mixed in water. Always wash off the cleaning product solution with a garden hose to remove it.
Are Adirondack Chairs Good For Your Back?
The answer is yes for those who have back problems. The ergonomically designed chair offers people that have severe pain in their legs and back added support in a relaxed sitting position. They slope from front to rear in the seating area allowing a person to sit in a reclining position.
This helps them sit with their spines straight up to prevent backache problems. The chair itself is lower to the ground, which allows people sitting in them to relax in a comfortable position. Cushions can be added to the chairs to make them more comfortable to sit in for longer amounts of time.
---
Final Verdict
When picking out the best Adirondack chair, you can either choose a model that's made of recycled materials, or you can go for the genuine article and pick a design that uses all-natural wood.
If you prefer the latter, then we highly recommend going the Amish route. Usually, wooden Adirondack chairs can't recline, so that makes the unit from Kilmer Creek even more valuable and reliable.
On the other hand, if you prefer to have the luxury and convenience of plastic, then we suggest going with the Polywood. Although all of these Adirondack chairs have similar features and benefits, Polywood is the most well constructed (and well recycled) of them all.
When compared to other chairs in its class, this material lasts longer, doesn't fade as much, and comes in a wider selection of colors.
Follow us for more information!
https://nestkoo.com/wp-content/uploads/2018/01/Best-Adirondack-Chairs.jpg
299
698
Jason Brown
https://nestkoo.com/wp-content/uploads/2022/03/nestkoo-DIY-home-security-home-repair-painting-made-easy.jpg
Jason Brown
2018-01-12 23:33:17
2022-05-28 16:55:40
8 Best Adirondack Chairs For 2022 [Updated]